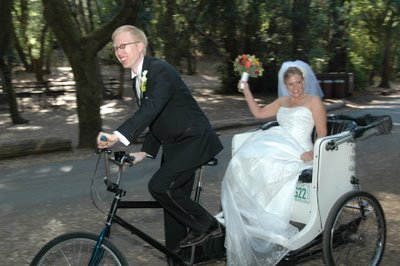 Sorry for the long delay in updates. I've been busy getting married! Now that the wedding is over, Mrs. WheelyCool and I are thoroughly enjoying the married life together and have been working hard to get settled and be normal people once again, like this blog.
I still have to finish my report from the Tour de Cure, and about a dozen other stories since then. So please don't give up on me. I'm here to write, really! or, "wheely"!
For starters, let me just say, riding my bride in a pedicab up a hill, wearing a tux, in front of hundreds of friends and family, was not only one of the most difficult tasks in my life, but perhaps one of the most memorable.