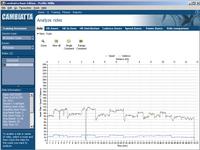 I set up the bike on a fluid trainer and did the TrainRight video again, hoping with the bike in a fixed position, I would be less likely to fall off through all the exertion.
I found that by literally throwing the Cambiatta on the floor, it was now within wireless range of the speed and cadence sensors, and it was finally able to log data without falling asleep. It managed to log my whole workout. This was quite fortunate, because I was about to take all the transmitters off based on previous failed attempts. Also, while on the trainer, my normal bike computer doesn't read cadence because the sensor magnet is on the front wheel, which is removed. No cadence, combined with no heart rate monitor, would give me no quantitative knowledge of what effort I was putting out at any given time during the workout. So I had to just use my own judgement as to how fast my legs were spinning, and how hard I was breathing or my legs hurting to know if I was following the instructions in the video.
Looking at the data afterwards, it shows that I did pretty much what the workout said. 3 Intervals at above 100rpm, 5 minutes each, followed by a SteadyState session of switching between 95rpm and 85 rpm at constant effort. It was quite satisfying to see proof that what I thought was happening, actually happened. So i'm starting to like the Cambiatta a little more. I just have to find a way to keep the device within range of the transmitters while on the road. It will be interesting to get the hreat rate data in there as well. I have borrowed a heart rate monitor from Kevin, and will be anxious to see all the data from the Mt. Diablo Challenge.
Perhaps the only negative thing from this workout was the cleanup, where I remove the bike from the fluid trainer. The fluid resistance element gets hot, and although I was warned, I still managed to burn myself on the heat sink. It hurt like a mo fo and really made for an unpleasent post-ride shower. But luckily it is only a minor burn and with ice,advil, and aloe, it's already feeling better.
I also tried an electrolyte drink called Amino Vital. It tasted good enough to keep me drinking it, but I had some bloating, possibly from drinking it too fast. I might stick with the Endurolyte capsules for the race, since I don't have a lot of time left to experiment, and have had two successful uses with it.