Palo Alto to Pescadero
I've always wanted to check out this route, so I suggested to Kevin and Dino that we do a longer ride than usual for a weekday, ~40 miles. Sounded like a simple enough of a plan. Until we actually rode it.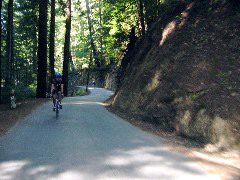 The one thing we didn't prepare for were the monstrous mountain climbs we had to do. I didn't have an elevation profile for the route I had planned, so I just had faith that it was something we could do. We gave ourselves a break by starting at the top of Skyline Blvd. But from there, it was straight down Alpine Rd. The road just kept going downward and descending. Some twists and turns, rough roads, lots of shade among the redwoods. It seemed like it would never end. Since going downhill requires lots of concentration and effort to maintain braking, balance, and basically keep from flying off the road, I was unable to take pictures for the first part of our ride. This picture is actually from the return trip, but you can see the tall trees lining the narrow roadway, distinctively California.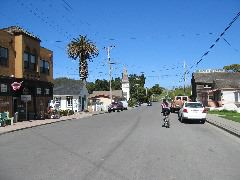 Basically, it was a whole lot of downhill, about 23 miles worth, with a few uphills in between. On our way down the hill, Dino made a foreboding comment about the return trip up the hill. I agreed in my mind that it was going to be tough, but didn't want to say it out loud, because I had picked the route! I suggested the idea that if we didn't want to handle such a big uphill, we turn back earlier. But when you're going down hill, you just don't want to stop. So before we knew it, we had arrived at the bottom of the hill, and the town of Pescadero. The town of Pescadero is quite small, basically an intersection of two roads. It had a church, a gas station, couple of shops and a general store. It seemed like a good place to take a drive to or stop along Highway 1.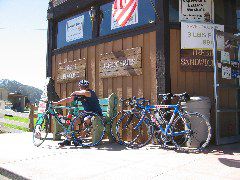 We thought we might have lunch somewhere, but we decided it wouldn't be too good to fill up too much before climbing the hill home. So Dino decided to go into the general store and pick up some bananas, just to replenish some energy.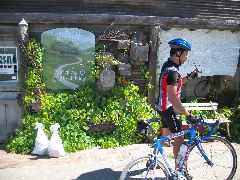 We spotted a cool looking antique store across from the market, and Dino wanted to check out what they had, but it was closed. So here's Dino wiping his eyes from the sadness. But perhaps that was more of a blessing, as I don't think any of us would have wanted to carry anything of antique quality back up over that hill.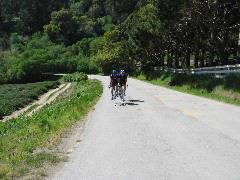 Just as we had guessed, the ride back home was quite grueling. mile after mile of climbing. Although it wasn't steep, so you could go a normal pace without falling over, or maxing out your heart rate. It just seemed to keep going for a long time. We were getting fatigued from all the energy we were expending. It was a really beautiful route though, just a whole lot of work.

An example of the twisty road between the Santa Cruz mountains and the sea, here's a stitched panoramic of one switchback.
By the time we got back, it was 46 miles total. With about one mile to go, Kevin was starting to have knee pains and leg cramps from all the climbing we were doing, so Dino made it back to the car first, followed by me, and then we drove back down the route to try to find Kevin and spare him some miles. We found him not too far back, but definitely with some more hills to go, so it was a good idea. We were done by 2:30pm, and hadn't had lunch, so we were famished. A long, late lunch secured us for the rest of the day.